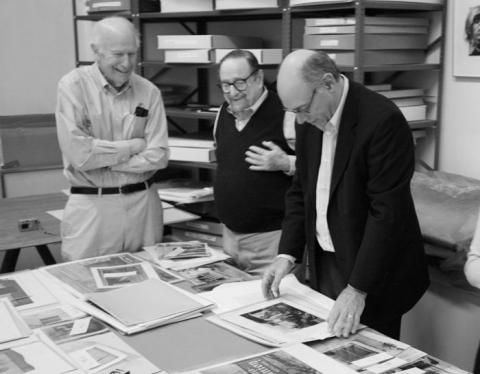 Who comprises the Arnold Newman website?
The Arnold Newman Website is dedicated to the legacy and work of famed photographer, Arnold Newman.  A joint effort between the Newman family, the Howard Greenberg Gallery, and Ron Kurtz, the site will work to preserve and share Arnold Newman's vast body of work and achievements
I would like to reproduce one of Arnold's images in a book or publication. Who should I contact?
All of Arnold Newman's copyright issues are handled by Getty Images. Please contact Rene Aranzamendez at Getty Images.  For any inquiries with special needs you can also contact the AN Archive directly and be put in touch with the appropriate party.
What is the difference between a print and a reproduction?
A print is a fine art quality image that has been created through a photographic process with immense care and precision. A reproduction, while also requiring much skill, is a copy of an image intended for large print runs and lower quality paper (i.e. magazines, newspapers). For more information on either of these processes please contact the archive.
Are prints of Arnold's images still being made?
No. There are no posthumous prints being produced as per the wishes of the artist. All existing prints were made under Arnold Newman's supervision.
Where are Arnold's negatives kept?
The Ransom Center at the University of Texas at Austin holds all of Arnold Newman's negatives, contact sheets, correspondence and ephemera for research purposes.
I would like to purchase a print of one of Arnold's images. Who should I contact?
Remaining prints within the Arnold Newman estate are represented by the Howard Greenberg Gallery.
Please contact the Howard Greenberg Gallery at 212.334.0010
I believe I have an Arnold Newman print but am unsure. Can the AN Archive verify this for me?
We are happy to answer any questions concerning the authenticity of an Arnold Newman print. Please contact the archive with digital images of both the front and back of the print if possible and as much information as you can provide. However, it should be noted that Arnold Newman's career was extensive and a provenance may not be available.
Do I need a Letter of Authenticity for my Arnold Newman print?
No. At the moment there is no such documentation provided. All prints were made during Arnold Newman's lifetime. If you require further verification please contact the archive and all inquiries will be handled on a case-by-case basis.